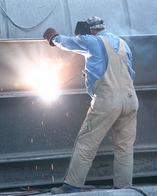 Our Goal is to Take Care Of Our Customers.
We will accomplish this by being the safest, highest quality, lowest cost, most productive and
most profitable steel making facility in the world. We will accomplish this while being cultural and
environmental stewards in our communities and by working together.

Nucor-Yamato Steel Company was formed in 1987 as a partnership between Nucor Corporation and Yamato Kogyo Company Ltd. with the goal of operating a steel mini-mill to manufacture wide-flange beams in Blytheville, Arkansas. Today, Nucor-Yamato Steel Company has the capacity to produce over 2.5 million tons per year of not only wide-flange beams, but also H-piling, sheet piling, standard I-beams, channels and various other structural shapes.

The company has gone from a Northeast Arkansas cotton field, to the largest structural steel mill in the Western Hemisphere, with employment of over 800 men and women. As with all Nucor Corporation operations, Nucor-Yamato's success is tied to the employees' success. The production bonus system creates an environment where the employees are some of the most talented, creative and well compensated in the industry. Their ability and commitment to continually improve makes Nucor-Yamato Steel Company a world class company and the leader in the structural steel business.
LINKS
Nucor Steel - Texas
In 1974, Nucor announced plans for construction of its third minimill, near Jewett, Texas. Like Darlington and Norfolk, it would be located near a Nucor joist plant, which was 60 miles away in Grapeland, Texas. This mill was initially constructed to supply the Grapeland joist plant with rods and angles. more...